History
The Houston Sinfonietta started in 1973 as a small group of amateur musicians. By 1979 the group had evolved into an orchestra, which then incorporated as a non-profit organization called the Houston Sinfonietta. The orchestra presented its first public concert on December 16, 1979 featuring Beethoven's Symphony No. 8, beginning a long tradition of bringing beautiful music free of charge to the Houston community.
Directors
Mary Gold
Mary Gold, our Music Director/Conductor, is a Band Director in Katy and Principal Horn of the Houston Sinfonietta. She received her Bachelors of Music Education from Michigan State University and Masters of Music in Education at Southern Methodist University. Mary has been a Soloist with the Western Michigan University Orchestra, McAllen Town Band, the Pan American University Orchestra, and the Houston Sinfonietta. She has performed with the Kalamazoo Symphony, Battle Creek Symphony, Twin Cities Symphony, Galveston Symphony, Brazosport Symphony, Civic Symphony, Houston Symphonic Band.
Mary is a past President of the Board of the Houston Sinfonietta and a past Texas Music Educators Association Region 23 Junior High Band Coordinator. She has also taught private Horn students in Kalamazoo Michigan, the Houston area, and for Houston Community College. Mary is a frequent clinician for Band programs with young Horn players in the Houston area. Mary resides in Katy, Texas with her husband Jim.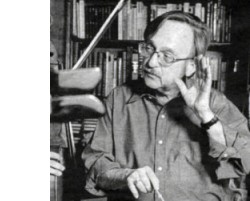 George Blytas
George Blytas, founder of the Houston Sinfonietta, was born in Cairo, Egypt, where he studied piano with Ignaz Tiegerman and Joseph Schulz and harmony and composition with Pompeo Minato. In 1951 he obtained his music diploma in Harmony/Theory and in 1952 his diploma in Piano Education from the National Conservatory in Athens.
With plans for a musical career, and with the help of several established European professors of music in Cairo, George Blytas initiated the foundation of a branch of the National Conservatory of Greece in Cairo in October 1951. At the same time Blytas established a student - teacher orchestra in which conservatory teachers and their students participated. But political unrest in the Middle East was already very much on the increase. On January 26, 1952, mobs burned many European establishments in cosmopolitan Cairo. Even the Cairo Opera House, which had been built for the Premiere of Verdi's Aida, was burned. A mass exodus of European professionals followed, including several of the members of the Conservatory Orchestra. Undaunted by political events, Manolis Kalomiris came to Cairo in May of 1952, and officially established the Conservatory appointing George Blytas as Secretary of the new school. Dimitri Saridakis was appointed director of the Conservatory, which continued its operation until 1962.
In view of the rapidly deteriorating political situation, George Blytas enrolled at the American University in Cairo, while maintaining his association with the Conservatory as Secretary and teacher of theory and classical guitar. In 1956 he came to the USA as a graduate student at the University of Wisconsin, where he obtained his Ph.D. in Physical Chemistry in 1961. In the same year, Blytas joined a major industrial research laboratory and after a 38 -year career, 95 patents, several compositions, and many Sinfonietta concerts, he retired as a research consultant in 1999.
George Blytas has written many compositions, most notably an oratorio based on the Greek poem by Odysseas Elytis, Nobel Laureate, entitled Elegiac and Funeral Song for a Second Lieutenant Lost in the Albanian Campaign.
George Blytas married Cora Ann Severson in 1963, and has two children: Constantine (Taki), an accomplished cellist, long-time member of the Sinfonietta and IT Professional, and Christina (Tina) who has played the violin with the Sinfonietta for several seasons but has since obtained an MFA degree and lives in Dallas. Tina created the Sinfonietta logo that graces our programs and website.
Board of Directors
George Blytas: Music Director Emeritus
Amy Groom: President
Richard A. Baum: Treasurer
Steve Dessens: Secretary, Librarian, Stage Manager
Carolyn Prindle Blytas: Staffing
Kelly DeVany
Constantine Blytas: Concert Programs, Web Site
Erin Dietsch
Ramesh Sarathi: Web Site, Mailings, Marketing
Ian Fetterley: Concert Recordings